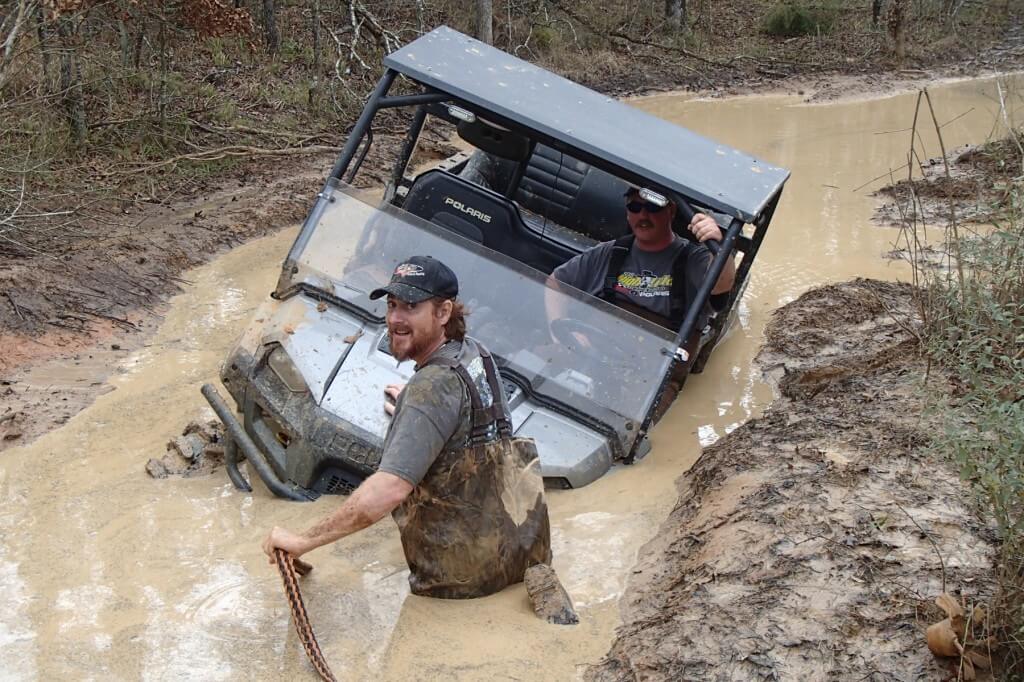 by Scott Smith, originally written in 2013
Not a cloud in the sky. The temp was perfect in the low 70s. So I made plans for a killer ride out at the High Lifter park the following day. I sent the usual texts and emails out to my riding buddies to gather up a few hard core guys. All I kept hearing back was there was a 100% chance of heavy rains with a cold front coming. My response, as always, was you don't make your plans around rain if you love the outdoors, you deal with it. I'll have to admit I wasn't feeling to confident about the weather either. We've been getting hit with one big rain storm after another for months. The flip side is the High Lifter Off-Road Park (now High Lifter Proving Grounds, powered by Polaris) has never been in this good of riding condition.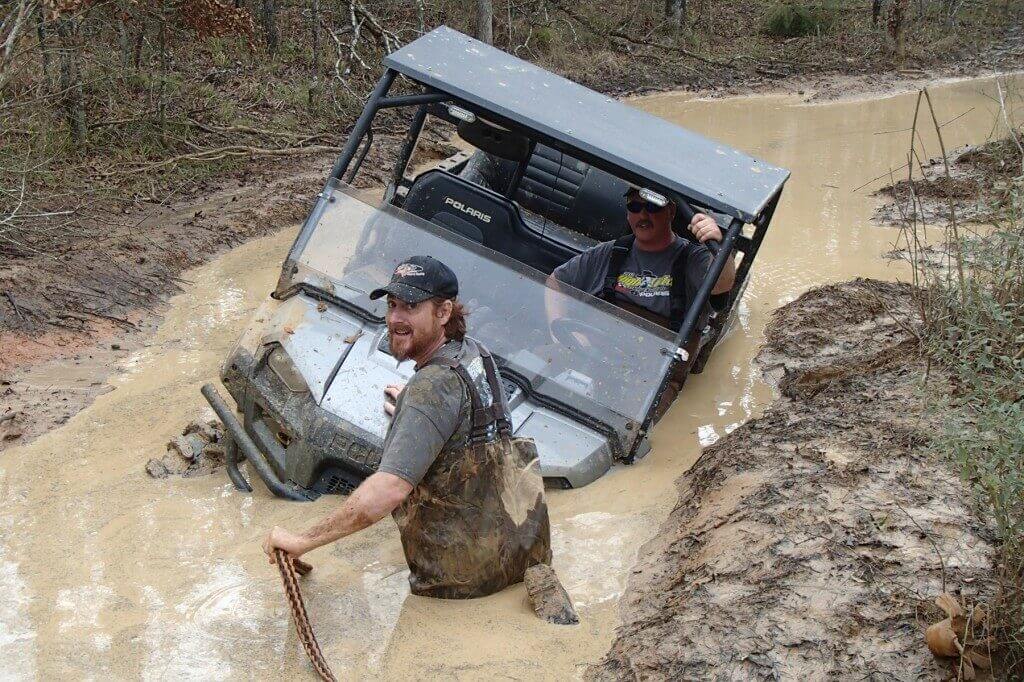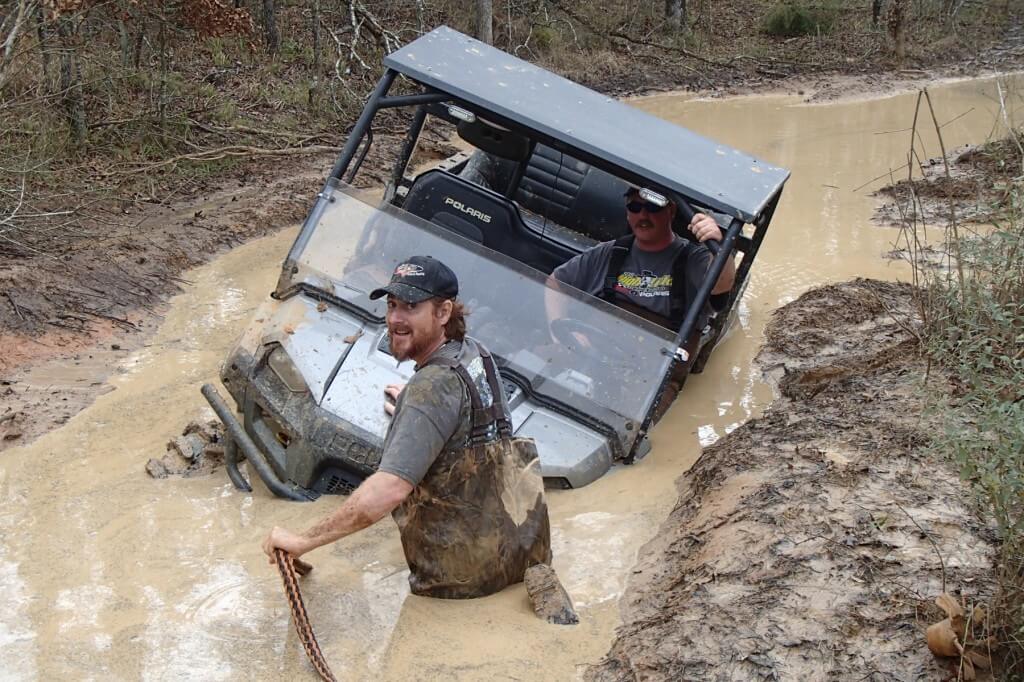 Cory had to work, Gerald had babysitting duties, Nate's ride was out of commission. Who knows what all the other issues were with the rest of the guys? Rachel and I spent Friday night at home, hoping for a big ride on Saturday but not sure if that would happen. As the night ticked on, I knew I was riding the next day. How could I not? You just can't pass up conditions like these, and I knew it. Every hole was filled with water, all this rain had silted in many holes giving the first few people that hit them a slight advantage and places that aren't normally challenging will be.
There are times you realize things about yourself. Not that you don't know those things already, sometimes they just become clearer and more obvious. That Friday night, it hit me. I am an addict. A mud riding addict. I love it, I need it and if I don't get it, I get agitated and moody. I've been mud riding since I was a little boy with my dad and it hasn't changed a bit now that I'm almost grown up, except my toys are way better now. As I sat there on Friday night, huge storm rolling in, I'm still planning on riding the next day while most of my hard-core riding buddies are sitting out. If there is a better sign that I'm hopelessly hooked on the mud riding life, I don't know what it would be.
This got me to thinking about people who have been working the same job for many years. Jobs that started out as a passion that gave way to an everyday grind.  A lot of people are fortunate enough to do things they love; however, this number starts to get pretty small when you check back in 16 years.  After 16 years as a job, and after a lifetime as a passion, I haven't changed in this respect.  For me, High Lifter isn't a job; it is a passion; it is a life; and it is a lifestyle.  If studied hard enough, there are probably strong links between this passion and the success of High Lifter.  Since I remain such an avid rider, I only want to make stuff that works and either solves a problem or makes it better.  Nothing is worse than getting a new toy in the mail only to open the box and see junk or have it not fit.  To this day, I still gauge the stuff we make by a few simple rules. If I bought this and opened the box, how would I feel?  How was the experience bolting this on?  After putting it on and stepping back to admire my work, would I be pleased?  This also transitions into how we treat our customers after the sale.  We're not perfect, we do miss the mark on occasion; however, when we do and the customer calls, we have a genuine desire to fix whatever the problem is.  The reason? That's the way we would want it.  How could we expect anyone to be satisfied if we wouldn't be satisfied ourselves?
Enough of that self-reflection babble, time to ride! We woke Saturday morning to dark overcast skies. My buddy Eddie had already text that he was on his way. Where were the other texts saying everyone was coming? There would be none. Not one sign of life from any of them. Who could blame them with the forecast? It was already sprinkling, and the weather man was calling for more. That didn't matter to us – Load the ice chests, get your waders, fill the gas tanks, grab some snacks, put the dogs up – this was going to be a very long and hard day of riding. It was already in the cards…me, Rachel and Eddie were going to make this day a ride to remember.
We hit trails and never looked back. From one hole to the next, we hit them all – all day long. After a few hours of riding we realized there was still no rain. Sure, it sprinkled earlier, but the rain never did come – at least not yet. Since it was just one Ranger and one RZR, we kept moving all day. None of the normal someone sunk and two hours spent cleaning it out, no broke axles or tie rods, just a great day of hard riding. During one of the breaks, we laughed about how most people would have never considered riding with that forecast, and rightfully so. For me, you can't sit at home on a "maybe". But if you do, that's okay, just don't tell me you love it more than I do – it's in my blood!
We rode until just about nightfall, and then headed to the house for a little grilling. Eddie brought hot dogs and boudin. What better way is there to finish off the perfect day of riding? After our things were put up, dinner was made, and showers taken, it started. The rain, the thunder, the lightning. I'm not sure how much we got that night, but as dad would say, "it was a real frog strangler". I'm so lucky to have great friends so excited about riding that they ignore the weather and such a wonderful girlfriend (now wife) who loves this as much as I do. Life is good.