Thank you to UTV Sports Magazine for the awesome article about High Lifter Proving Grounds, powered by Polaris in your February 2019 issue! Story by Staff of UTV Sports Photos by Tyler Tate & Keith Hook
So many enthusiasts travel throughout the United States every year in hopes of seeing what our country offers for desirable landscapes and riding locations, the common traveler often seeks the open desert of the southwest, the wild trails of the Pacific Northwest or the stunning red rocks of Utah – and rarely stray from that path for rightful reasons. However, there's a gem of a destination that has been a well kept local secret for quite some time and is just recently growing in popularity across the rest of the country, the infamous mud of the south.
I don't know why more people don't travel to the south, maybe they have images of red state hillbillies eating deep fried butter, or they fear that they need to learn the southern "drawl" to communicate, maybe it's just because they hate cleaning mud out of every nook and cranny! While that may be true for a percentage of the South, there's so much more to it.
Late last year were were invited to visit the High Lifter Proving Grounds just prior to the park's grand opening festivities. The facility is located just outside the city of Shreveport, LA which is located in the northwest corner of the state near the borders of both Texas and Arkansas in the Louisiana region called Sportsman's Paradise. Due to its close proximity to Texas, it's truly a unique combination of two great American heritages that sets the Shreveport-Bossier area apart from anywhere else, There's no place like it anywhere we've been, a world of color and south, taste and entertainment, elegant Southern charm and a relaxed attitude that suggest you kick off your boots and stay awhile.
After a few well rounded meals and short experience with the city life of Shreveport, we headed out of the hustle and bustle and into the country. Just 14 miles southwest put us at the home of all things off-road operated by the people who wrote the book on riding in "them" mud holes.
Turning off the country road, puts you at the main stage of the park that yields ample wide open camping areas, full service restrooms, general store, service center, and the very necessary showers to rinse off in. Clearly a long standing dream and goal to acquire the perfect land, immediately you get the sense of pride and passion that owners, Scott and Rachel Smith, have devoted to the property.
The L-shaped property doesn't immediately give any sense of a wide open park, as the entrance its at the front leg of the narrowest part of the mud estate. As we drove deeper into the property and arrived near the general store we noticed that the open camping area quickly transformed into a wooded jungle. We were graciously welcomed by the team and were "equipped" with the bare necessities: waders, dry storage bags, safety gear, and of course a very capable mud machine. A far cry from our wide stance low-bodied desert car, this High Lifter equipped unit was something that resembled more monster truck than UTV. We knew one thing, well maybe two…. We were able to have some fun in the mud, and we didn't have to take any of that mud home with us!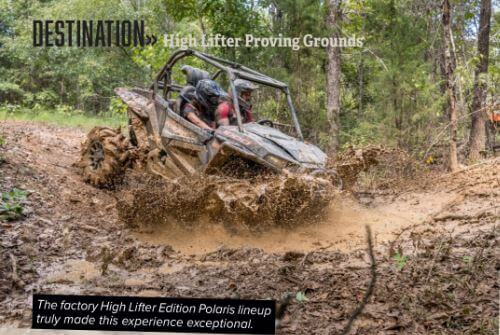 With anticipation level at full tilt, we were guided into the thicket of trees. Not even 250ft into the adventure we ere axle deep in mud, a quick stop to ensure the squad was ready and off we go. The terrain was definitely consistent with the tighter wooded trails that you'd find throughout the eastern and even northern states. However the ground was far from solid and rarely gave us a firm Earth-like feelings, just simply drier in some parts than others. As the trails weaved throughout the tall trees and respectably varied in elevation allowing the skyline to pop in and out of view, the continuingly deepening rutted trails began to expose the need for constant forward movement, traction at all corners, and the waders that we were recommended. The earth beneath us was a smooth almost creamy-like mud that surprisingly held form in most places. The 12″+ deep ruts were precisely the width of the average size tire which ensured that everyone stayed single file and in constant search for throttle to avoid getting stuck, even though most did at some point, including ourselves.
The 700 acre park is not just weaving trails, even with over 25 miles of them… There were quite a few breaks in foliage that opened up to wider fire road style paths and some fields of tall grasses. These areas were generally on ramps and off ramps between the trails, but some opened up to wide open mud holes, or what we could best describe as waist deep mud lakes! At first glance we assumed they were reservoirs of some sort that fed the grounds thirst, until…. our lead car drives straight into it! What had to be 150-200ft across felt like an eternity to traverse, especially when the hood of our vehicle repeatedly submerges below the waterline all while holding a line to get through to the other side. Back in we go! With varying depths, we bobbed up and down like a buoy in turbulent waters. Muddy water flowing to and fro within the cab of vehicle, but essentially never fully draining as we didn't sit still long enough.
The area was curiously named Booty Beach, we never did get the reasoning behind the label but had to assume it was because you were always booty deep in mud. We passed through time and time again, gaining confidence and speed after each run finding shallow areas to gain speed and deeper areas to plunge through, creating 10ft high brown walls of water. The uncertainty of it all turned to interest which then turned to exhilaration, all within minutes… After countless smiles and exhausting laughs, we had to continue on our venture throughout the park. As we started back in motion, we were oddly aware that we were now soaked to the very core. But that's no excuse to hold up the exploration of the remaining trails and eventually make our way back to dry land and find those showers!
It's very clear that High Lifter extends its love of all things off-road and created a place for local enthusiasts to ride. For residents of Northern Louisiana, East Texas and Southern Arkansas, the park is close to home, making it a convenient destination. It goes without saying that we'd recommend a visit as bucket list item for any fun lovin' rider to experience at least once in their life no matter where you live. The park offers the perfect blend of terrain for true mud riders and novices alike. With trails and bypasses out of the mud, those without ground clearance or the desire for sludge can chose to remain high and dry. High Lifter Proving Grounds truly offers riding for everyone from anywhere. Bring the family, your ride, some lunch and plan on staying all day for good 'ol fashion down home fun. "Y'all come back now ya hear!"
Read the full article here for all the insights. Jump to page 100 at the top of the webpage.