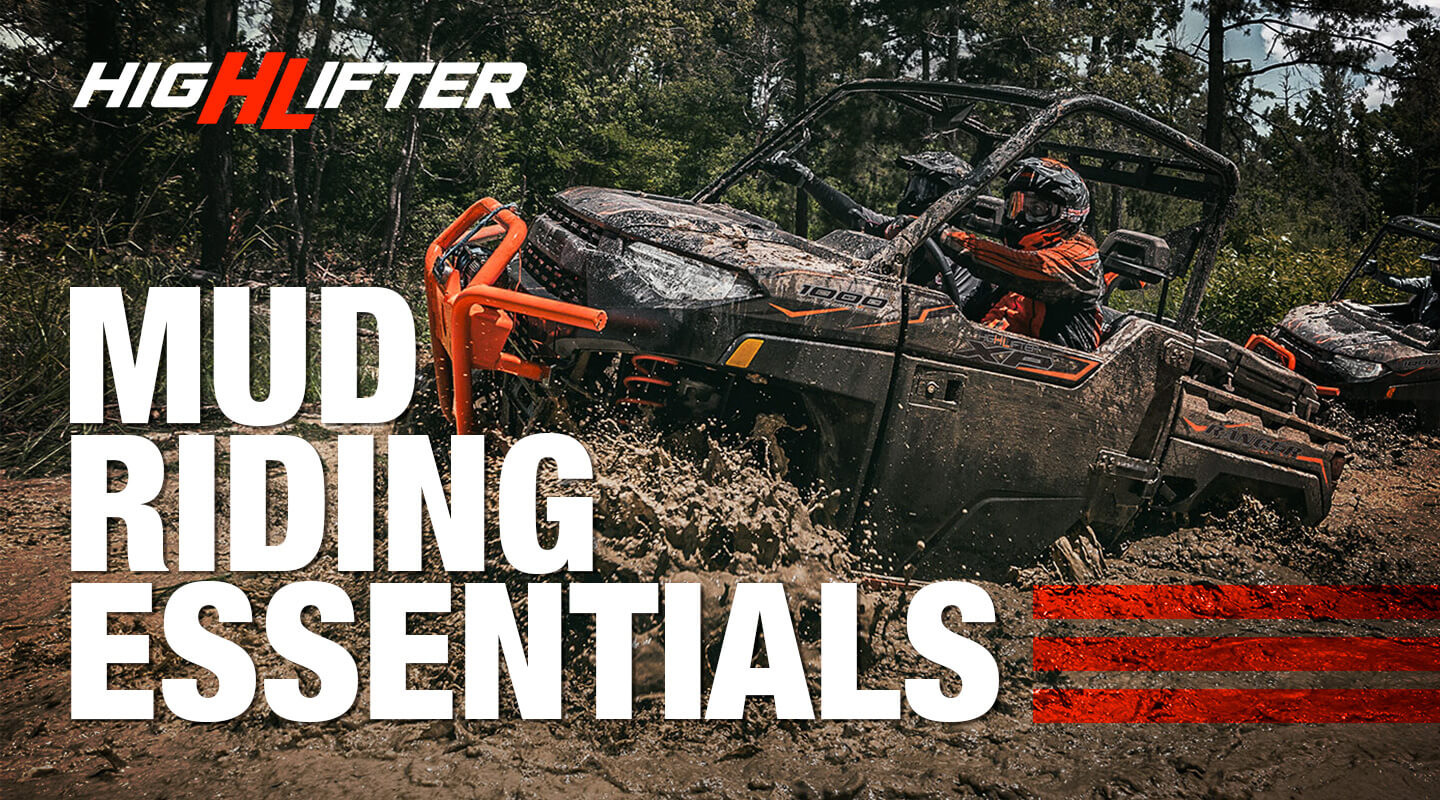 by Kelsey Smith
So, you've decided you want to join the thrilling, adrenaline-driven world in powersports, and you bought a unit to do just that. You can splash through the mud with friends during the day and party with lights and music at night. Before you get there, you might need a few aftermarket parts for your ride to be mud ready. High Lifter has broken down how to prioritize your upgrades so you can have the time of your life in the mud! Whether you take our advice, or have your own plan for your ride – find it all at HighLifter.com!
Tires
Whether you ride in mud, on the trails, or even the rocks – let us hook you up with some new tires!
Are you used to hearing, "Wait, Billy needs to be winched out again"? Nobody wants the embarrassment of getting caught in every rut – you need tires that DIG! After all, you're out there to ride. You don't want to stop and wait on every trail. High Lifter's brand of Outlaw tires is the leader in the industry for true mud riders. We know because we are true mud riders. Even if mud isn't your thing, search High Lifter's many tire options by tire height or wheel size. We make finding what you need easy!
Lift Kit
A classic upgrade. You need a lift kit so you aren't dragging the ground.
While a lift alone won't ensure you make it through the deep sticky stuff, it is an important piece to your overall build. High Lifter offers a range of lift kits from 1" up to 10" to fit nearly every OEM. For bigger builds, we also offer 4" and 6" portal gear lifts that not only give you lift and provide gear reduction for the best ride.
Portals
Speaking of portals, if you buy the right ones, they will change your riding experience!
And yes, the right ones ARE High Lifter. When you're dropping the big bucks, you want to know what you're buying will hold up. Our portals come with the strongest backing plate on the market. High Lifter is the only company to offer a 60% gear reduction with dual idlers, giving you even more reason to trust what you're installing on your ride.
Snorkel Kit
Add a snorkel kit for a little peace of mind in the deep water.
Protect your expensive investment from disaster! The last thing you want is to wade through a pond to cool off in the summertime or knock the big mud off after a long ride, and BOOM, you're waterlogged. A High Lifter snorkel can save you that heartache.
Audio
Make sure to install some audio on your ride…trust us.
Do you really want to be stuck listening to the guy in front of you and his 1970s hits while you're trying to get your mud party on? Take your music into your own hands! High Lifter sells some of the industry's top audio brands. Whether you want a sound bar, speakers, an audio roof, or an upgraded radio, High Lifter has it all!
Waders
Essential for cold, rainy weather – Gator Waders.
Go from ready to ride to PREPARED to ride. Waders will keep you dry and warm AND make laundry a breeze! Take them off at the end of the day and you're good to go. Gator Waders are designed with the rider in mind and built with the highest quality materials and components on the market.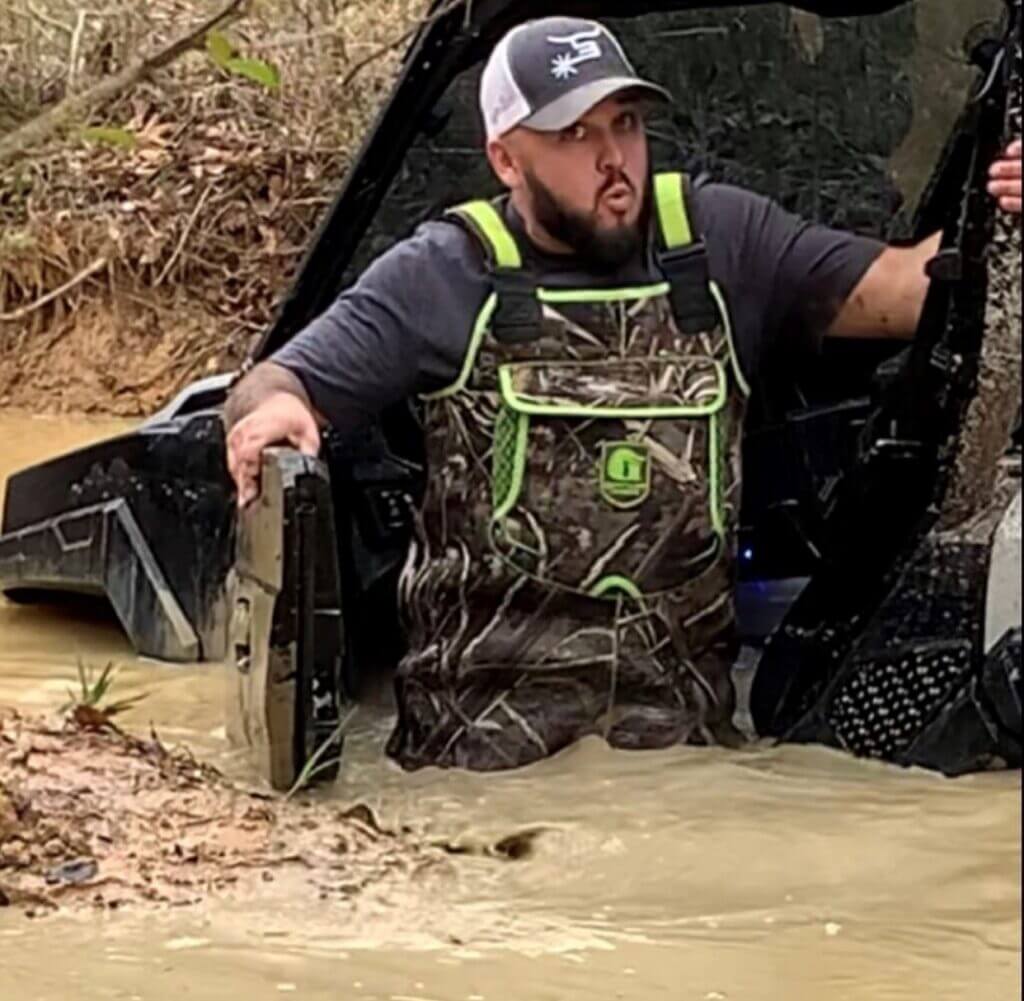 Light Whips
Make sure you throw on a light whip. Help your friends find you when you get lost…
…and you will get lost. It gets hard to see at night and every SXS starts to look the same. Customize your ride in the easiest way – buy a light whip. Choose from different lengths and different colors, some even come with a remote and different color options. Your buddies will be able to spot you anywhere!
Windshield
Try out a brand new High Lifter Windshield, because who wants bugs in their teeth when flying down a trail?
We can't be the only ones who have experienced bugs in the face… Not to mention dust, rain, even the wind is too much if you're going fast enough! Protect yourself from the elements with High Lifter's new line of easy to install windshields.
Axles
Keep a spare axle in your truck. When have you ever gone on a real ride and not broken an axle?
No seriously. No matter what type of axle you run, you will inevitably snap one here and there. It's just part of life when you're a mud rider. High Lifter makes a variety of axles for different models and at different price levels.