by Kelsey Smith
Do you use your machine primarily for work? While SXSs and ATVs are fun to build up for hardcore riding and bragging rights, they are also great utility vehicles. You may not need the bells and whistles for your ride to serve you best. But how do you know what you should buy? Let High Lifter make your life easier!
Whether you use your rig for hunting, farming, or a little of everything, below are some great quality products that you can count on to improve your work experience without breaking the bank.
Gun Rack
Essential to any hunter who will be transporting a gun – gun rack.
High Lifter has gun mounting options. Whether you are sneaking to your dear stand in the early morning on an ATV or toting your equipment around on a SXS, you can probably find what you need at HighLifter.com.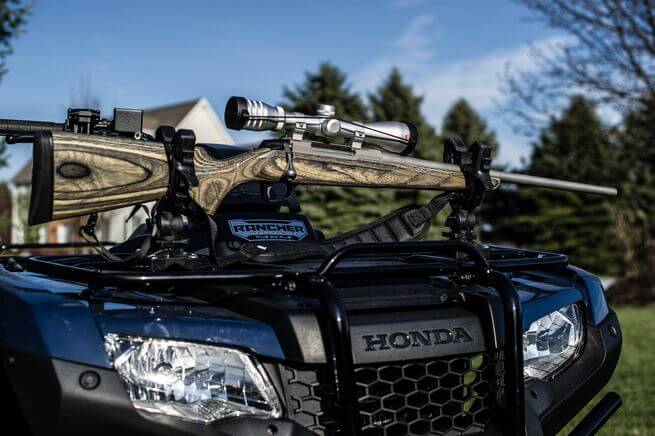 Axles
Quality Axles at Affordable Prices!
High Lifter's line of stock series axles provides the perfect replacement axles for work and play. A few alternatives include High Lifter CV Axles and Outlaw DHT-X Axles.
Lights
Don't let the sun going down halt your progress – light up your ride and keep moving!
Work through the night and in the early morning hours by adding lights to your vehicle. High Lifter offers a variety of options including bright LED headlights, lightbars, and even multicolor lights. Who says work can't be fun too?
Lift Kits
Give your "work truck" some extra ground clearance with a High Lifter bracket lift.
Doesn't hurt to sit up a little higher off the ground. The last thing you want while on the job is to be completely derailed because you're stuck in a rut! We offer bracket lifts from 1" to 5" to fit nearly every OEM!
Heavy Duty Tow Hook
Tow hooks provide a solid place to hook onto when rear towing is needed. Sometimes you need to pull yourself out of a sticky situation, pull someone else out, or haul a loaded trailer. No matter the case, High Lifter tow hooks will hold up for it all.
Mirror
See what's going on all around you with a mirror.
Check out our options of rearview mirrors and sideview mirrors. With wide angles and adjustability, you can just clamp it on and go! We also offer halos so you can continue to work after dark. They fit on the roll cage of nearly any UTV.
Windshield
Try out a brand new High Lifter Windshield, because who wants bugs in their teeth when they're trying to work?
We can't be the only ones who have experienced bugs in the face… Not to mention dust, rain, even the wind gets in the way when you're trying to get things done! Protect yourself from the elements with High Lifter's new line of easy to install windshields. As an added bonus, you have the option of ordering a tinted High Lifter windshield to help keep that sun and glare out of your eyes.
Storage
Keep work items safe and dry with a storage container.
Tools and equipment are valuable and expensive to replace. A cargo box will give these items a place to live so they will be safe and out of the way, but handy when you need them!
Springs
Lastly, improve ride quality with springs!
High Lifter Springs are designed to make a significant difference in the performance of your ride. And when you're trying to get a job done, performance is key.
We want to see pictures of your working utility vehicles! Email pictures to marketing@highlifter.com to be featured by High Lifter.